Webinar March 18th : Streamlining Elevated Access Reviews for Senior Managers

How can you streamline SAP emergency access management (EAM) for senior managers?
Senior manager bandwidth is the biggest issue limiting broad adoption of emergency or elevated access management. Enterprises can often explain why auditors want EAM solutions and why EAM solutions provide elevated access quickly during an emergency to those who need to take action and solve problems, but who can explain how to help senior managers worry less about the extra work they will face when an EAM platform goes live?
Reducing the workload created for senior managers by elevated access platforms includes streamlining the request/approval process, eliminating manual review requirements for low-risk sessions, enhanced email support, and effective dashboards. When senior managers can see that greater control over their SAP environment is possible without also demanding more work from them, they are more supportive. The cost-benefits analysis for EAM is more positive. And, most importantly, a major hurdle limiting broad adoption of EAM is overcome.
Security Weaver ensures everyone gets value from elevated access management, whether they be those who need temporary access to solve problems, those who must supervise those using a temporary access, or those who must audit the controls around elevated access.
Join Diane Reinsma, Senior Product Manager at Security Weaver, as she discusses key ways senior managers can streamline both the emergency approval and session review process within your SAP environment.
Click here for details on how to attend the webinar event, and to view the recording following the live session
Here's a sneak peek into our previous webinar. To watch the full recording, Join our Security Weaver User Group on LinkedIn.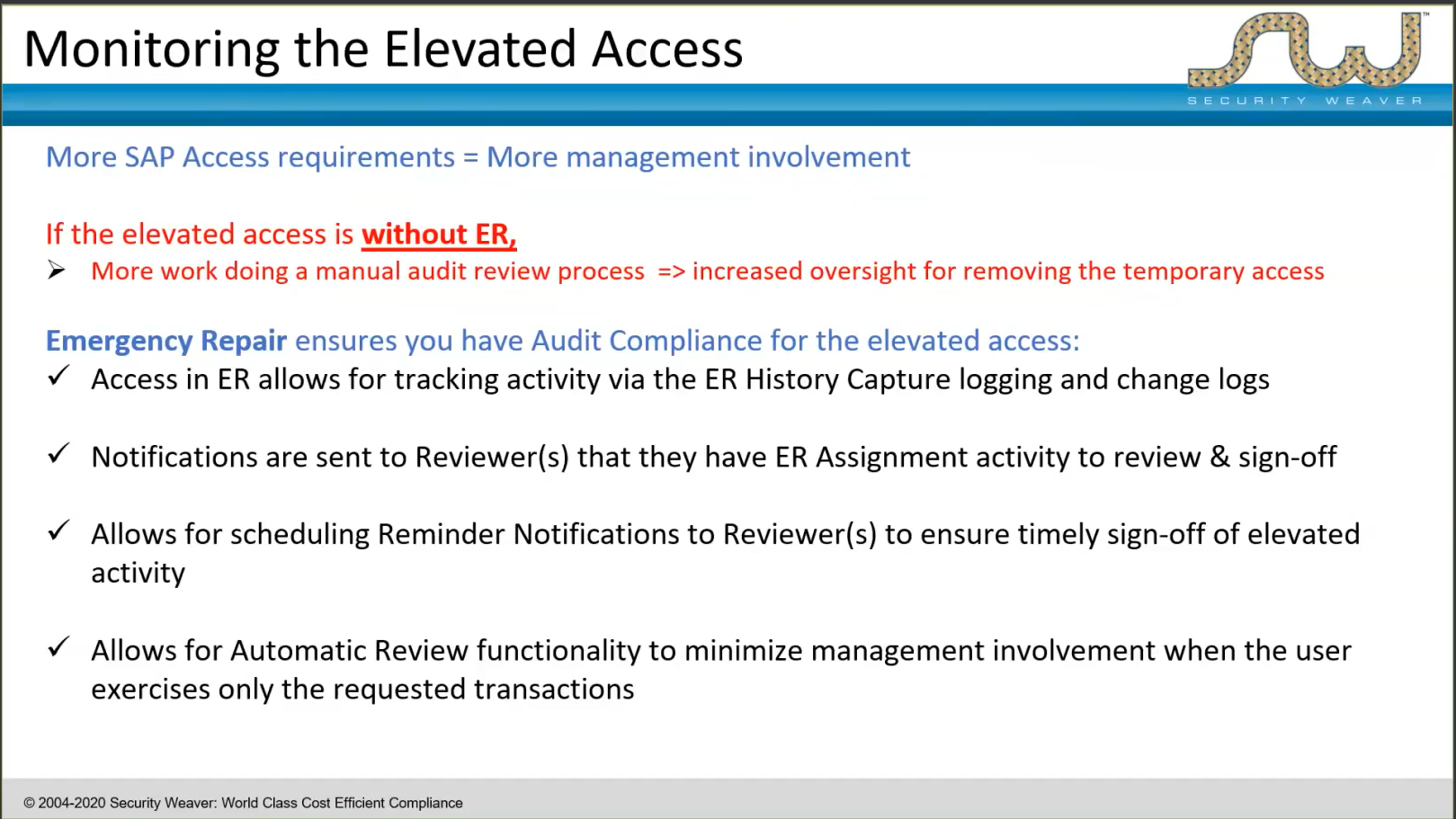 Apr15, 2020 - Best Practices with Elevated Access Management by Diane Reinsma
Enhance your oversight and reduce risks through Elevated Access Management. Know what is stressing your staffing and access management processes and why your access management policies haven't solved the issues.
Watch Full Video